I thought i'd start this thread in a similar vein to the amazing and funny pictures threads, for weird, freaky and creepy things you come across in the news.
It's also for weird and freaky pictures you may come across (like the most tattooed man, the most pierced woman).
The same rules apply as they do to the funny pictures thread, so no nudity, no swearing and stuff like that.
I'll start with these (a 72 year old woman having her grandsons baby)
http://www.thesun.co.uk/sol/homepage...have-baby.html
The rather famous at the moment, a woman having her dads baby-
http://karimahscuisina.wordpress.com...re-so-in-love/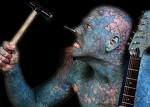 The Enigma