Hello. I'm new to the site and primarily joined to share my ideas for stories and are, primarily this one.
So here we go...
Based on the amazing book Marvel 1602, I have created the maiden voyage for DC 1602: Batman 1602 (with a few non Batman things added...)
Gotham, Spain, in a port city in South Central Spain in the year 1602. The city was once a great power in the middle ages but has now fallen into a murky shadow of corruption, mainly because of smuggling operations run by a man named Oswald Cobblepot (but more commonly referred to by his nickname: The Peregrine.) While it is rumored that there is someone higher up then the Peregrine no higher authority has been ever seen or heard of.
The ruling family for ages has been the Janes (pronounced hwayne). Bruno Jane 's(the current head, and only living member, of the Jane family) parents were once in a position to stop the Peregrine's operations for good. But the night before the operation was able to be carried out the Janes were killed by an agent of the Peregrine. The city was told that the family was killed by sudden illness, but Bruno saw the murder and is now (unknown to the Peregrine) the only moral person to know of his parent's true fate. Bruno as grown up, with his butler Alfred (and an army of other servants), haunted by his parents murder yet helpless to do anything about it.
Picture of Bruno:
http://i1178.photobucket.com/albums/x371/doombot9000/IMG_0026.jpg
If Bruno where to try to act against the Peregrine he would likely be killed, like his parents. To ensure no action is taken the Peregrine has bought the loyalty of most of Bruno's servants (save Alfred) and the Gypsy circus which regularly performs for Jane. The head of the circus is a "master clown" who is currently playing the part of the Joker (who is, in fact, quite sane but also quite corrupt and immoral.)
Other members of the circus include the Joker's wife, who plays a harlequin,
Picture of harlequin:
http://i1178.photobucket.com/albums/x371/doombot9000/IMG_0017.jpg
and the freakshow member known as the Human Crocodile.
The Human Crocodile is a man, in peak physical condition, with severe ichthyosis (a disease where the skin dries and cracks, resembling scales.) He was abandoned as a child and has lived most of his life in various freak shows.
So, eventually, Bruno finds a way to act. First he consulting, and allying, with Sir James Gornando (a royal knight in charge of Gotham's police)
and His Lord Presiding, Harvard Dent (Gotham's top judge), geting the police and the courts on his side.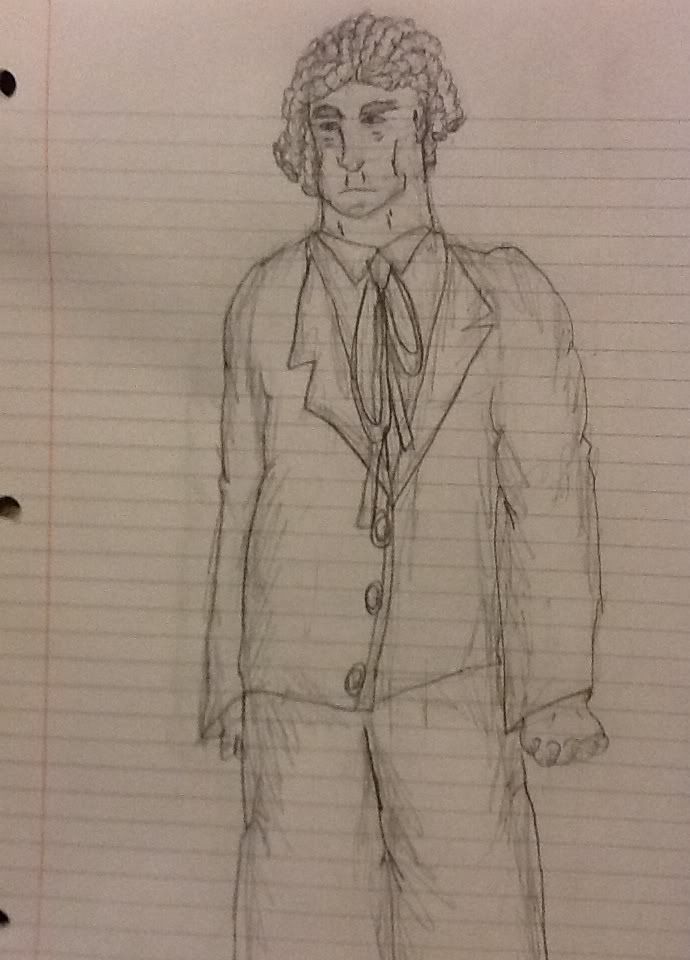 Along with Alfred, the team decides that Bruno needs to create a new identity to anonymously fight the Peregrine. After looking around Jane Manner the group finds an medieval suit of armor and various weapons from around the world. Famous French scientist, Victor FrezŤ (famous for creatic automaton cooling systems) is brought in and designs Bruno's suit of off an lightened suit of armor, designed to look like a bat.
Donning the armor Bruno begins a crusade against the Peregrine as the Dark Knight.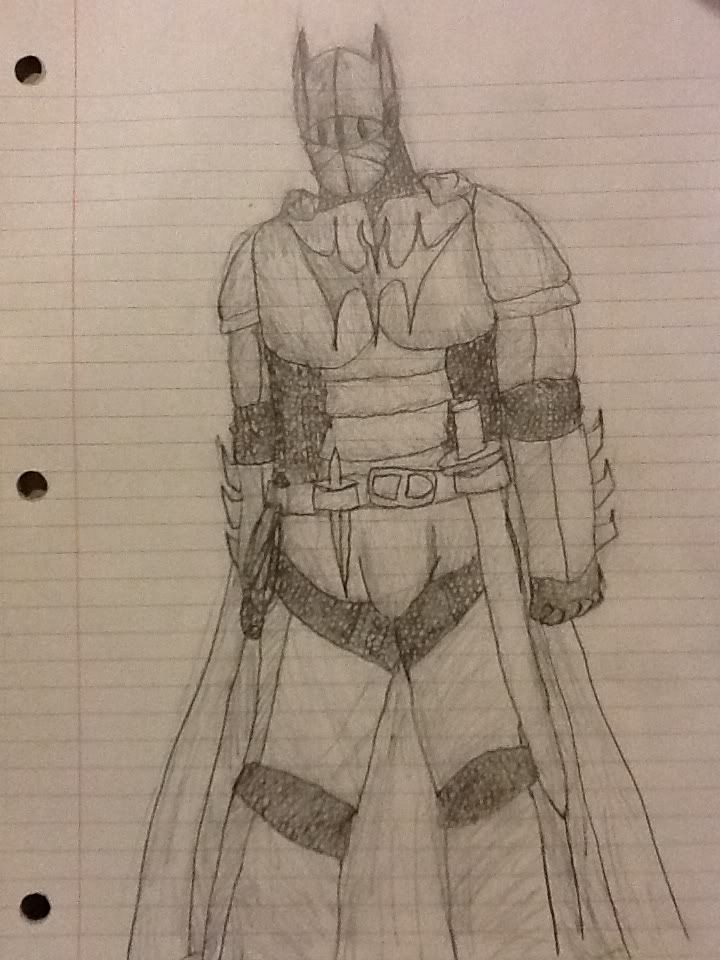 But first Bruno must find out information about the Peregrine. And the information he needs is information that Dent or Gornando can't provide. So he turns to the most connected person in Gotham: Selina Kia. Selina Kia is a Cat Woman (for those of you who don't know what it used to mean when a woman was a cat look it up) and has "worked with many of the Peregrin's men. Her alliance is only to money and her personal benefit (evidenced by her profession) so will readily sell Bruno information (along with a few other things.)
[Picture of Selina coming soon]
(The rest of the story arc is slightly uncertain, but this is roughly what I have so far.)
With Selina's infromation Bruno (with the help of Gornando) is able to track down a Peregrine drug smuggling facility. But when he goes to stop the drug operation (as the Dark Knight) he is confronted by two strange figures. The first is a hatter with Mercury poisoning and other than severe insanity is relatively harmless.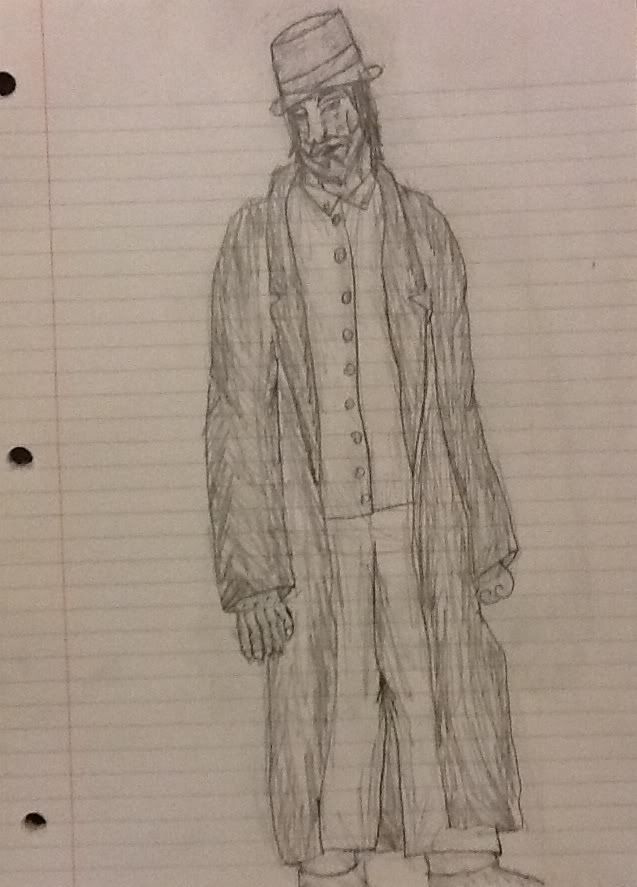 The second is a harshly deformed cousin of Quasimodo who is forced to wear a mask. The man has acquired the nickname of Scarecrow, for his scarecrow like mask, and is quite harmful. Scarecrow takes lumps of dried drugs from the storehouse, wraps them in cloth, lights them on fire, then throws them at his enemies, causing temporary intoxication.
Once Bruno finds information about the Peregrin's operation he shares it with Gornando and Dent for political action. He also uses Gotham's new printing press to spread infromation throught the city as a form of blackmail and public humiliation for the Peregrine and his crimes. The printing press is run by Carlos Kentana and owned by Peris White. Bruno and Carlos seem to get along well.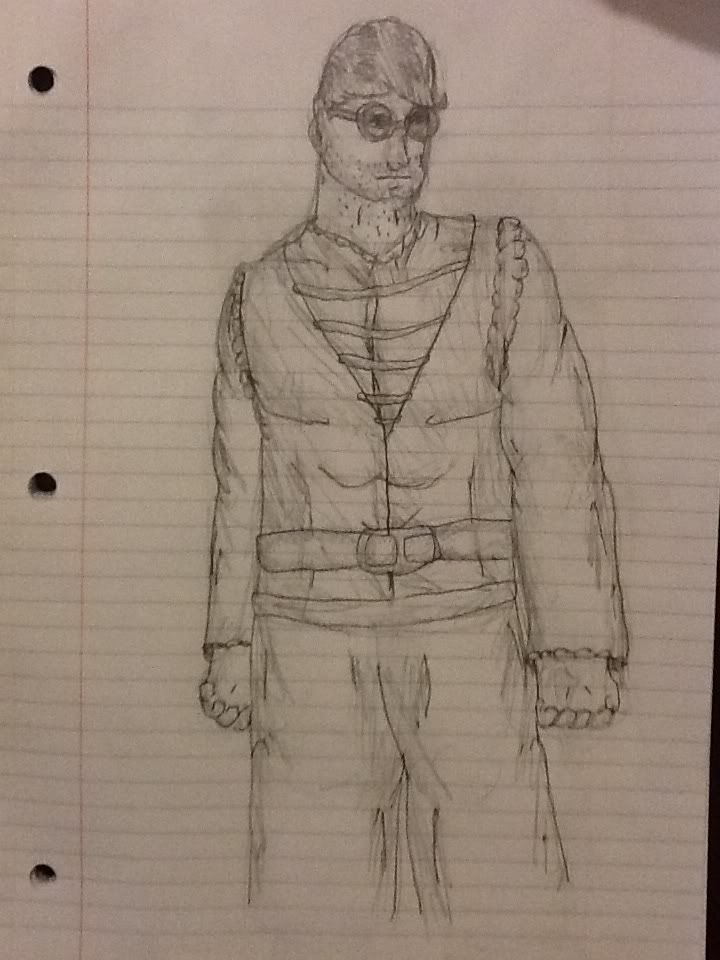 But ultimately the Peregrin's operations slow with initial surveillance by Selina and Bruno, findings published by Carlos, arrest by Gornando, and conviction by Dent of many of the Peregrin's men. Everything seems to be going according to plan for Bruno and his allies.
But then the tragedy strikes.
Improvised explosives go off all over Gotham, setting the city on fire. All around the city chaos rules as Gotham tears itself apart.
Among the first explosive to go off is one in Gotham's head court. The building was vacant except for Harvard Dent and Bruno (currently dressed as the Dark Knight.) The explosion hits Dent and Bruno is unable to save him. Consumed in the flames Dent becomes horribly scared (with one side worse than the other.)
As Bruno retreats from the building the Joker saves Dent. The Joker convinces Dent that Gotham's destruction is a result of Bruno's lack of authority and that the Peregrine can right Bruno's wrongs. So Dent goes with Joker, conflicted. Bruno (as the Dark Knight) meets up with the Peregrine's men at the drug storehouse where he confronts Dent. Dent is now conflicted between his alliance with the Joker and Bruno. And he has to make a critical decision whether to tell the Joker the Bat Man's identity or not. So to make up his mind he flips a Spanish silver coin, which lands in favor of not revealing Bruno's alter ego. Just before a fight breaks out a bomb in the drug pile explodes and everyone is able to duck except the Joker, who inhales enough fumes from the burning drugs to cause permanent brain damage (and thus becoming insane.) And when it looks like nothing can get any worse the true mastermind behind all the crime and destruction in Gotham is reviled: Ra's al Ghul (who, being immortal exists in the exact same form as he does in the regular DC universe).
Ra's al Ghul has been secretly working to destroy Gotham like he has Rome or Greece scene the middle ages. And now he has almost succeeded.
Almost...
Suddenly, out of nowhere, a strange costumed figure of red and blue garments with a thin red cape appears and is able to defeat out Ra's al Ghul is a matter of seconds. Then the "Super Man" proceeds to simply blow out the fires with his breath, saving Gotham in minutes with seemingly super-human powers.
After words the Super Man speaks to the Dark Knight. He secretly reveilles he knows the Bat Man's identity (to Bruno) and without a word Bruno is able to determine the Super Man's. Then the Super Man leaves for London, where there are more people he may help. But the chain of interplanetary events his presence on an underdeveloped planet would create will be more complex than Bruno Janes wildest dreams...
*Phew... That was long...*
So there it is!!! I hope you like it. If people would like I have concepts for two more DC 1602 books (one focusing mainly on Bat Man but intercut throughout Europe and the Universe, and the second focusing on all of Europe.) So if you like this and would like to hear and see more please tell me. And if not (of if you have some criticism), still tell me because feedback is the only way I can gauge my ideas and improve upon them.
So there you go,
Thanks!