@Klank.
I'll concise this down a tad, for the sake of the poor souls that are clock worked orange'd into following our discussion. That being said I'm going to ignore the tangential stuff like plastrons.
As for the justifications for these non subtle changes in attire:
Firstly, I said fans have a history of needing to see a film/story before accepting new approaches to design. That's the way it's been around here from day one. From the Xmen suits to the organic web shooters to the red underwear, to fact that
no one
complains about the flames on prime anymore. It's not just about the story giving you some grand justification, it's about the story presenting it's world and rhetoric for you organically. When I first saw spidey in running shoes I was taken aback and it's not like the movie give some grand explanation for it, they simply presented a world in which a teen made his own costume... Why these humanoid characters choose to dress a certain way(again, not at all different from the original splinter), will be presented naturally in this film. To prejudge it is to literally make the same old mistake fans have been for the last 15 some ought years, only they had the benefit of being new to this occurrence.
Secondly, you asserted that these turtles are simply wearing too much 'stuff' to be able to sneak around like ninjas. That's funny, after the magic bell trick Raph pulled in TMNT2, I'd say you need to implore a little imagination. But to the point,
I said that the shredder, since his conception has worn a comparable amount (if not much more) "stuff" himself, and that's never stopped him from being a 'ninja'.
I'm not talking about these new 2k2 shows/stories that argue my point to a fault, but rather the original and the movie incarnations of him. Outside of this 'proton pack?' Just what is it about what they are wearing that's all that much more than shredder? (clearly you aren't talking about raph and mike).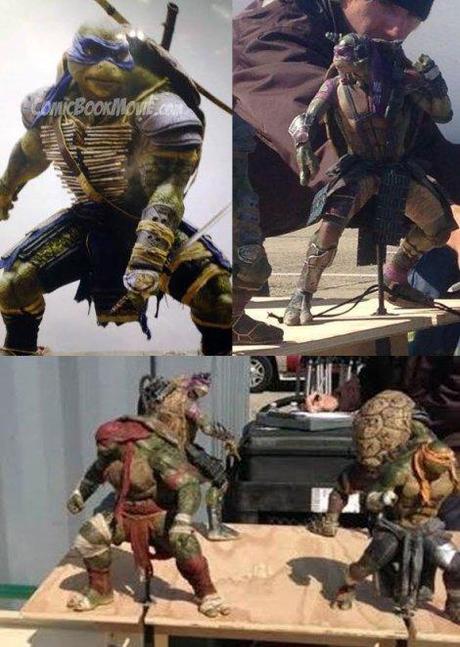 http://m5.paperblog.com/i/78/782420/...-L-1_effg.jpeg
Keeping in mind only one turtle is actually wearing human clothes. What is it about our world that disallows them to wear clothes? Does leo have to be brainwashed into thinking he's part of the foot before them putting on some kind of attire stops making no sense? Raph literally has more bandages on and a loin. Apart from different what is it about this that makes less sense than what came before? Is it preconceptions based on what's come before? Or some legitimate reason I've yet to hear? Cause if it's the former...
I personally think the argument was long conceded with the original splinter. The creatures put him on those clothes to tell a story and to work 'characterization'. It's the same mechanism. There is nothing stopping them from doing that exact same thing with the rest of the characters other than fans adverse to change.
As for the batman/ironman villains, that's great that you explained why you think the studios changed them(though hardly a red dawn situation if you ask me). That does nothing to explain why general audiences everywhere accepted them. A non Hispanic Bane or a non Arabic Ra's(whose name remains Arabian)...Suffice to say it has something to do with the context of the story they were presented with vs simply pointing out that things were different before the fact. It's when something is truly wrong that people can't accept it. I anticipate the same rules will apply here. But hey, worst comes to worst, we can always way the studio didn't want to make an asian bad guy with asian underworld ties in this day and age.
Lastly
Quote:
I think you underestimating the general public to overlook these things if they special affects are great. Some movies have had the best fx of the time but still were unpopular with the public like the first two Star Wars prequels for example.
Who said anything about the people overlooking anything of these things (you've decided to hate) simply cause the cgi is good. I said "No matter what happens, the cgi and how polished it is will be make or break with general audiences." That is, if they show up with weak cgi the whole thing will be pissed on, period. As in no matter what happens people won't be judging things based on quality but rather quality of cgi. Sachs or whatever has no chance if cgi sucks. If the cgi is great, then it will be judged objectively for what it is.