I find it interesting the you come across in Batman's TV/film history. For example, he ALWAYS wears his seat belt in the Batmobile.
He always wore a motorcycle helmet on animated shows.
And Sal Valestra, the crime boss in Mask Of The Phantasm, smokes in the flashback scenes...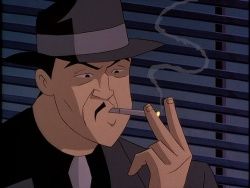 and pays for it when he gets older.