I'll start by saying that Star Wars trully doesn't need a reboot right now, but it doesn't mather if it will take 50 years, Star Wars will eventually be rebooted, expecially now that it's no longer in Lucas's hands, so, when that happens, how should they proceed with it? We are already going to get spin-offs set in various eras from what it seems, so, like with Star Trek, the reboot will go back to the original trio of characters.
So here's how i think it could work:
1) Go back to the original concept of the saga and mix the old serial type of adventures with an epic tale. At the time the original films were being made, there was a restriction due to technology, so they had to inventent new techniques.
With that in mind there is a lot that you can do now, However new films sometimes lack control and don't hold back with their action, leading to a lot of gratuitous moments where you put the palm of you hand in your face thinking: "how could they get out of there without a scratch? This makes no sence". Control is definitelly something a film like this would need.
Something this would have in favor against the original is a proper budget, the original had many restrictions, this time you would have more than enough money to make something new and grand in scope, while still keeping the realism and humanity of the original Trilogy intact.
2) Han is the protagonist as much as Luke. Well, probably not as much since we don't follow him since the very begining, but the focus should be on him almost as equally, this is something that worked in the Star Trek reboot's favor, aknowledging that Spock, easily the most iconic ST character, was the protagonist too.
This way, both offer a different type of view to the universe, Luke and Obi-Wan open us to the world of the force, with more fantasy and Arthurian elements, as well as an epic and mysterious athmosphere, while Han is the more grounded world most are used to live at the time, which is pretty much like the old Pulp magazines and Serial adventures.
The relationship between the main trio of Luke/ Han/ Leia is also important, once she is introduced, Leia should become one of the main protagonists too, opening the world of politics and the Rebellion itself. In this new saga she should probably get something more to do too, possibly even joining in the action across the death star.
3) Do not redo and let out dead weight. Reinterpret the original saga, but don't try remaking key elements like the famous "i am your father", i will talk about more of that later, so let's go on to something that should be rédone, the designs.
Go back to the old designs and you see lots of things that weren't done due to budget or technical problems, like C3PO
But let's go on to the most iconic of them all.
Darth Vader
.
You can not use the same design, However it's so iconic, how do you do something half as amazing as the original one? Well, if you look back at some of the original art there's your answer:
Here, the character keeps his original look, while still being almost a new character of his oun.
Now, what did i mean with dead weight? Leia being Vader's daughter for example, that made her relationship with Luke a bit more weird, and it was obviously not Lucas's original intentions, so, instead of redoing that, they should keep it simple. Which brings me to...
4) Keep it simple, Star Wars starts as a simple story, you can have some subplots in the background, but the core of the saga should remain an easy to follow adventure.
5) Unique look and use of technology. Lets face it, films nowadays have massive budgets, that along with new technology should make it easier for filmmakers to bring more new things, we barelly see that, Gravity did this without a budget as big as the likes of Thor or Battleship.
With what you have today we can go back to some of the older McQuarrie art, where there was this mysterious and pulpy aura about the story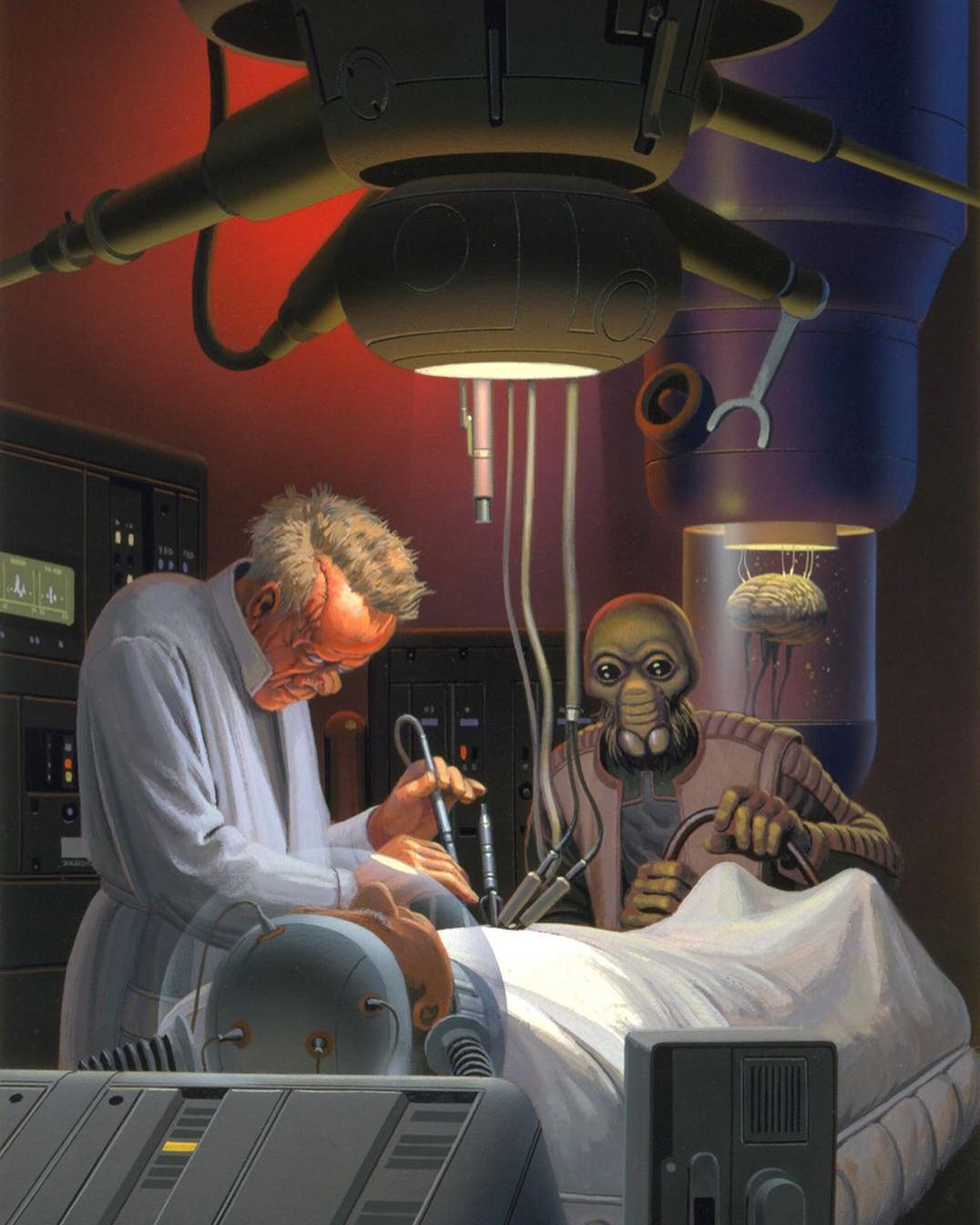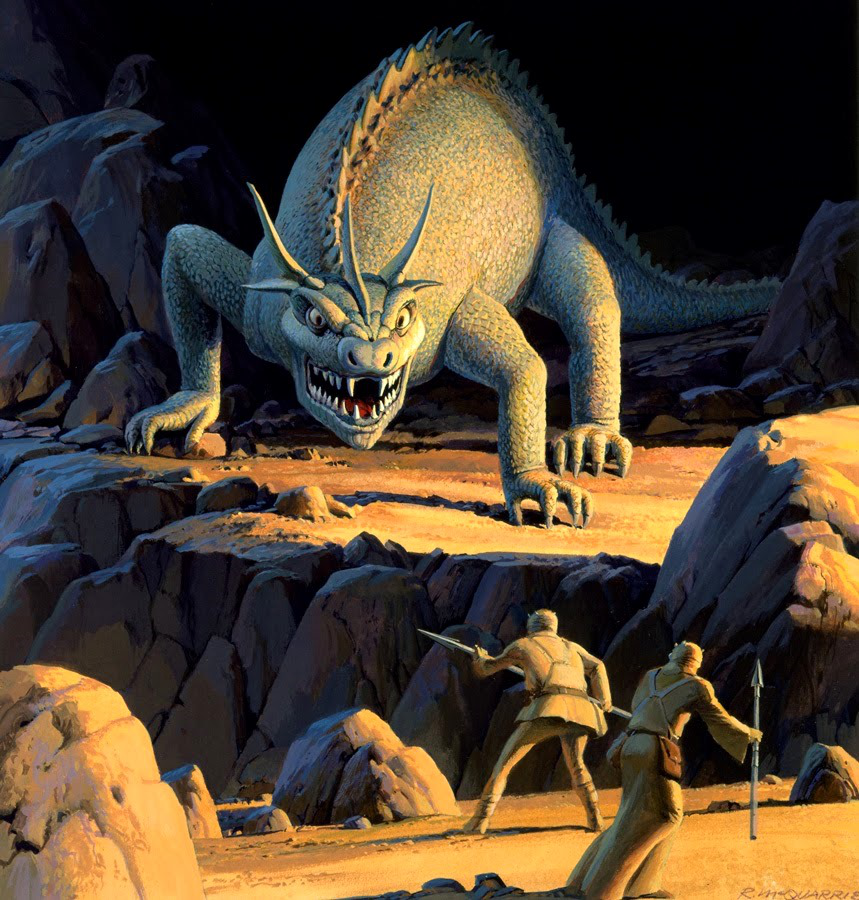 So, a visiunary director is needed for this film, hopefully somebody who will not follow the usual trend for Hollywood movies, a lot of talent can be found with the likes of Cuaron, instead of going with the most obvious directors that are popular at the time like they did now with J.J.Abrams.
Another important thing is Technology, a Star Wars film should feel like an event, so whoever goes behind it needs to be creative and serious about the next steps in filmmaking, like Cameron and Peter Jackson tried to be with Avatar and Hobbit.
Only around one or two fights would involve lightsabers, and they wouldn't last too long, only the time they needed to. I imagine some stuff with Han repairing his ship in space of things like that, shot with modern technology.
6) Get a great writer who's restrained with his writing by not going over long and drawn out action scenes, and who can keep the sence of joy in the saga, while upgrading it if possible. Two words i don't want to hear from this reboot: "gritty" and "edgy".
Luke's development would also need to be a little faster, in the first film, he could even know a thing or two about swordsmanship.
Not every force wielding being needs a lightsaber, Yoda and Palpatine should already be beyond that.
7) The Trilogy.
Now, the idea would be for a trilogy, but like the original did, each film would work as a stand alone too, having its oun plot. The first film would be very similar to the original, but with Luke possibly finding out about his father and Vader either having an interest in finding him, or having tried for many years. Several changes to the mythos could be made too, and that would certainly lead to some changes in the plot as well.
The sequel wouldn't be Empire Strikes Back all over again, but possibly draw from it and Splinters of the Mind's Eye, going the Godfather II route with showcasing Anakin's downfall in flashbacks. Boba Fett would possibly play a larger role, being even more of the films antagonist, while still having Vader as mostly the front threat.
The third film would incorporate some of the original ideas
Like Han sacrificing himself and Luke leaving in a "man with no name" fashion after the Rebellion has won the war.
So here it is, i'm not saying we need a Star Wars reboot, this is an idea of what i think it should like if there ever is one.
Anybody else wants to give ideas or their oun input?