Joined

Mar 7, 2003
Messages

11,644
Reaction score

0
Points

31
I did this a while back, but it got deleted when they did that overhaul on the interface, so I'm posting it again. This movie is in development hell (and untill Jon Peters is off of the project I hope to whatever higher power there is that it stays that way) but assuming they could pull it off, who would be your ideal cast and crew for the film? Give your reasons as well. Also, if people feel like doing manips, this thread would welcome them with open arms.
My cast.
Dream: Alan Rickman.
Most people say Johnny Depp, and though he could most likely work well, he is a typecast. Rickman is older, but his voice and demeanor is perfect for Dream.
Desire: Jonathan Rhys Myers
He's got the acting chops and that delicate mix of adrogeny and attractive qualitys. I haven't found anybody better for the part.
Destruction: Hugh Jackman
He's got the rugged looks, but he's also charming.
Delirium: Kate Winslet
She may be too old, and I'm not as sure of her as I used to be, but her performances in Eternall Sunshine of the Spotless Mind and Heavenly Creatures still put her on top for me. I'm interested in other suggestions.
Death: Helena Bonham Carter
This is really more of a temporary choice. I'm not sold on her (though the more I think about it, the more I like her) but I can't think of anybody else at the moment. I don't know yet. I'm really desperate for some ideas. Death needs to be somone who is both cheery and at the same time very wise. I've heard Nstalie Portman suggested at times. I think after her role in Closer, that she may be able to do it, but she's not ideal, she's quitting acting soon, and she is perhaps too young. I'm not sure.
Despair: Kathy Bates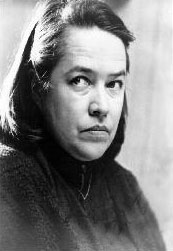 Typecast? Most likely. But she does fit the bill
Destiny: David Strathairn
Clooney said on why he cast him as Edward R. Murrow that "He looks like he has the weight of the world on him all the time." I think that is a quality very fitting of Destiny, his voice is also amazing.