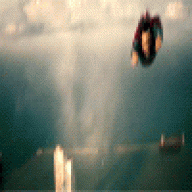 Joined

Jun 23, 2005
Messages

6,998
Reaction score

0
Points

31
If this was covered in a thread relating to (real) cigarettes, then apologies, but I thought this topic was enough to warrant its own thread.
With electronic cigarettes (ecigs, vapes, etc.) now widely available in both convenience stores and gas stations, in both disposable and "resmokable" form, I've been wondering what people's opinions are. Have you done the research? Do you approve of not applying the same laws to ecigs as cigarettes? Do you think they're less harmful/safer/healthier/etc.
I'm trying to transition to e-cigs, not because I want to stop smoking (as a writer, I like to have a cigarette while thinking), but because they just seem like a safer alternative, and so I made that my new year's resolution. I've tried ("sampled" you might say) a few, but the other day I got an ecig called Blu or Blucig, and I gotta say it's actually pretty good. They come in both disposable and refillable cartridges (I got the disposable, to sample it) and it's very satisfying flavor-wise. There's even a fricking commercial for it!
[YT]VZishwAt_RM[/YT]
So what are your thoughts? As the thread title suggests, discuss

t: