Joined

Oct 8, 2009
Messages

1,397
Reaction score

0
Points

31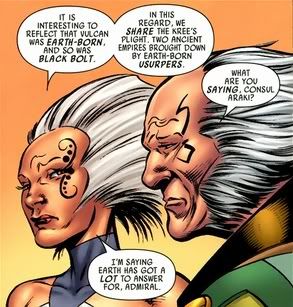 Let's review, shall we?
The Shi'ar Imperium was conquered by Vulcan (AKA Gabriel Summers), a Mutant Human, who instigated numerous wars of conquest.
The Kree Empire was conquered by the Inhumans, led by Black Bolt, who set off the T-Bomb which devastated countless worlds.
Majestrix Lilandra Nerimani was assassinated by Darkhawk (AKA Chris Powell), a Human.
The Phalanx invasion was led by Ultron, a robot created by a Human.
The Universal Church of Truth sprang into existence to worship the Magus, a corrupted version of Adam Warlock, who was created on Earth to be a perfect Human.
Sakaar was conquered by the Hulk, a Human.
The Phoenix (AKA Jean Grey) destroyed a Shi'ar planet.
Thanos is a member of the Eternal race, an offshoot of Humanity, and his father was born on Earth.
So at what point do the various races of the universe say enough is enough and just blow the hell out of Earth?