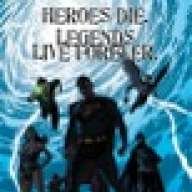 Joined

Jun 20, 2005
Messages

8,244
Reaction score

0
Points

31
Okay, so i've totally listened to all of the bendis-hating raves on SHH and taken them in objectively, for sometimes there are some great points!

...well, i went out to the "local" comicbook store and as much as i tried i absolutely couldn't walk out w/o purchasing every "House of M" and HofM "tie-in" issue throughout the Marvel U....

I get home and totally demolish the stack of books (I mean I read them), and guess what...to my surprise, I'm totally digging them! In fact, i'm loving the heck out of it! And of all the tie-ins, the actual New Avenger/Astonishing House of M is the best written! So far, I'm not thinking that Bendis has sucked it up too bad! Others have been way worse!!!

In fact, superfans never fall short of praising Chris Claremont's work on X-Men. I'll be the first to say he definately deserves his accollations as the best X-writer ever!...but his "Season of the Witch Art"??? What the crap is going on there?!?! Now i know why i've continued to stay away from the convoluted x-titles for so long? So far, it seems to be the weakest of the tie-ins.

Anyway, while i'm not the biggest fan of the "four issues of talk, one issue of action, one issue of epilogue" arc style that Bendis is known for, I am getting a thorough kick out of HofM...

Truth be told, i wouldn't have even bought them in the first place if so many people weren't criticizing it so blatantly. I guess it just goes to show that you have to read it and decide for yourself.