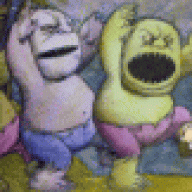 Joined

Jan 30, 2005
Messages

3,745
Reaction score

0
Points

31
I know, there are a lot of threads like this lately... BUT!

Mine is different. You see, I love what's happening in the comics. I am extremely pleased with all of the special events and all of the comics to which I subscribe.

BUT **** THESE SPOILERS! I was reading a comic and it had a SIGNIFICANT spoiler to the next issue of X-Factor. A lot of you may know what I'm talking about. I'm tired of Joe Q blowing the ending of every comic just to boost sales.

That is like telling the ending of The Sixth Sense in the previews to get people to watch the movie. IT IS ****ING ANNOYING. There was no spoiler tag, and no way to avoid that ****.

I HATE SPOILERS. I do NOT want to know what happens in the next issue of Planet Hulk, or the Ultimates, so I won't go to forums about those things. But how the hell am I supposed to know that there are spoilers inside of a comic that I bought for a future issue of something that I read every month.

**** you, Joe Q.