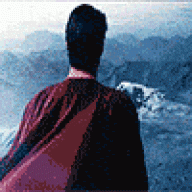 Joined

Mar 7, 2005
Messages

7,118
Reaction score

184
Points

73
Okay, I like to ask this question.

In the history of comic book films, it was all bleak pre-X-Men (2000) where you were likely to get a comic book film, and a film that was good from beginning to end. That isn't, and doesn't seem, to be the case now after Bryan Singer's X-Men. But I must ask, even before that film, there were two great superhero films in the form of Superman (1978) and Batman (1989). And after each of those fims, there wasn't even a thought from movie studios to make movies of every comic book out there. They still didn't even after WB made so much money with just those two a decade apart.

After Superman (1978), we got the sequels, and a Batman movie was in development, but that was it. Then after Batman (1989), we got the sequels, we also got a few others on lesser known heroes, but if I recall, many people still didn't think it was really worh making movies about supehreroes. Now after X-Men (2000), not only did the Batman and Superman franchises returned, but we got more superheroes movies, Iron Man is the more recent coming out, with JLA in development. In other words: comic book movies are more into the movie market.

I guess what I'm asking is: what made this all different with the release of X-Men (2000) in comparsion to the releases of Superman (1978) and Batman (1989)?