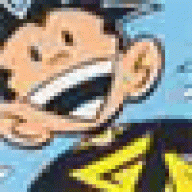 Joined

Feb 23, 2005
Messages

387
Reaction score

0
Points

11
This was inspired by the tv show Loonatics.
The Contest:
Take any non-superhero cartoon character and make him/her a superhero! you can even do whole teams, (example, mickey,donald,and goofy.) Draw a picture or make manip of the
character(s) then post it here. Also, please include a short desciption of the character (code name, powers, etc) After all the entries are in, i'll make a poll. We then vote for a winner!
The Prize:
I'll post the winners name in my signature and state that he/she won this contest.

The Deadline:
All entries must be posted here by May 1. All entries posted after May 1 will not count.
GO!!!