Joined

Aug 29, 2005
Messages

24,335
Reaction score

0
Points

31
Well, I know a few of you here collect SW figures, and so far the Holy Grail of the Saga line has been Commander Cody. I got him in the mail a few days ago from a fellow Scummer for a Shock Trooper. Anyway, Cody's legs.....suck. I don't really "get" what Hasbro was thinking here. He's an SA clone.....accept for his ankels. They don't move, so you have to keep him in a "crouched" pose which makes it hard for him to stand on his own.
Anyway, I'm also a customizer so I did a boil and pop and switched the legs of a 41 Clone and put them on Cody's body. After about 20 mins of paint mixing (to come up with the correct color or orange) this is what I came up with, and he's much better then the Hasbro version.
Example: Hasbro


Here's mine.

I can kneel now! YAAAAY!

Nothing major, Cody from the waste up already is a great figure (except Hasbro made his helmet grill grey when it's black...simple repaint. They also neglected to paint the inside of his visor...again, a simple touch up.) Now that his legs are 100% SA he's 10 times the figure he was before.
I also finished my Gree update. Hasbro hit the nail on the head with the MOLD they used on the figure, a 41 SA clone.....but the paint job was all wrong. I simply repainted it and added the straps (twist ties.)
Hasbro Gree: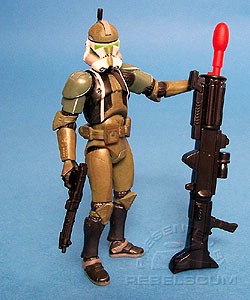 My Gree:
My next project is a SA Jango Fett.