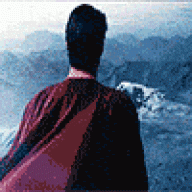 Joined

Mar 7, 2005
Messages

7,118
Reaction score

184
Points

73
Simple: create your very own superhero team in the DC Universe. While this is as simple as I can get it, there are a few rules:
I only ask for your teams to include the following:
1) Your team must have a name
2) The number of members must be either 5, 7 or 8 total
3) As much as you can, explain why you created this team.
4) If you like to explain the roles for each member, or why you choose each member, that's your choice.
My team is...
THE LEAGUE OF AMAZONS
The members include:
Wonder Woman
Black Canary
Power Girl
Donna Troy
Wonder Girl
Huntress
Grace
I have a very good explantion for why I created this team: I love strong, smart, beautiful women. And those are among my favorites. I did not forget about the Birds of Prey, and I like that all-female team too. But these characters are among my favorites, and that can be acceptable, right?.
I picked each member like this: I went along each of DC's superhero teams and picked the one that is known from that team; either it had been always the case, or started just now (modern). Black Canary, not because of the Birds of Prey, but because she is chairwoman of the current JLA. Power Girl because she is also chairwoman, but of the JSA.
Before I wanted to pick Starfire, in connection to the upcoming Titans series. But after awhile, I feel like I don't know much about the comic book version of Starfire, and Raven also, in regards to their Teen Titans animated version. I might need more to know about their comic book version, but as of now, I couldn't pick them. So I then pick the next best thing from the upcoming Titans: Donna Troy. I felt I knew her a little more than Starfire, part of it from Countdown, the Wonder Woman book, and with Teen Titans: Year One. So that's why I choose Donna Troy. Also from Teen Titans; currently, the Cassie Sandsmark/Wonder Girl is part of the team and has been since its relaunch back in 2003 by Geoff Johns. And I picked her from that team, since she's currently known from that team, and the first female memeber I would say if I decided to name the current team lineup. Huntress is a character I love from both JLU and Birds of Prey, but because she is more known from the comic and someone from that team was needed, I had her as a member. And finally, Grace who is from the Outsiders and now Batman and the Outsiders. And you just gotta love a 7 ft. amazon.
The last person is Wonder Woman, and I want to explain something about her. Because I pick one woman from a particular team, Black Canary was chosen from the JLA. Wonder Woman is also from the JLA, and to explain why I had these two, it is because I did not count Wonder Woman from the JLA at all. I counted her as part of DC's Big Three (or Four, as fans have it with Green Lantern included). Using the Big Three (or Four) like it was a team itself, that is how I picked Wonder Woman without violating my own rules/directives.
That's my team:
THE LEAGUE OF AMAZONS
What's yours?