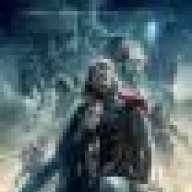 Joined

Dec 19, 2004
Messages

1,087
Reaction score

1
Points

31
Well the 2nd trailer is here...fantastic! (however not too overly impressed with the 'campy' business...ah well...it's a friggin' Superman movie!


YEAHHH!!!!)
With a big movie like this it's no surprise action figures are on the way! I picked up the Clark to Superman figure from Mattel toys 5 -inch figure line. I must say that Mattel really screwed the pooch on these figures just like the Batman Begins line. Look what they are capable of producing and they take a mutli-GAZILLION dollar movie and make utter crap off of it!
LoL...i'm starting to sound a tad negative here eh?
ANYWAYS I just wanted to know when the Luthor figure is coming out. I don't have the best looking Superman movie figure but he is a Superman movie figure nonetheless and I want a Lex to fight him!
Anyone know when this figure arrives? So far the Toys R Us just has all Superman.