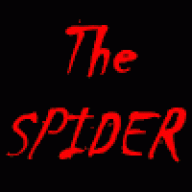 Joined

Feb 13, 2006
Messages

7,676
Reaction score

1
Points

31
Well, I've decided that I'm gonna sell some old stuff to make room for new stuff. I dont know how interested people will be in this stuff though so i'm not going to type everything out. If your interested in something specific, then PM me and I'll let you know what i have or if i have something you're looking for. I'm planning on starting to sell this stuff on ebay around July but I figured I'd help people out in need for any of this stuff. All are loose and should be in good condition unless otherwise specified.
HAVES
Marvel Legends
Professor X (MOC)
Dr. Strange (MOC)
Sasquatch (MOC)
Lady Deathstrike (Loose)
Pyro (MOC)
Thor Series 3 (Loose)
Onslaught All Pieces Unassembled
LOKI VARIANT
Marvel Legends Face-off Series 1
Hulk vs. Tall Headed Leader (Loose)
Fantastic Four Classics
The Thing (MOC)
Human Torch w/ Impossible Man (MOC)
Spider-man Classics
Venom Series 16 (MOC)
Man-wolf (MOC)
SpiderHulk (MOC)
Marvel Select
Spiderwoman Variant
TMNT
I have everyone of the old school TMNT figs MOC. I'm not selling the stuff i really like, but random crap I'm getting rid of. And vehicles etc.
GI JOE
I have tons of Joes. if you're looking for something, then let me know. Old School and a few newer ones as well. I'm mainly wanting to get ride of vehicles and bases.
GARGOYLES
I have pretty much all the main ones. Almost all of them i think. And a few vehicles.
See PAGE 4 for PICS
POWER RANGERS
I have most everything from the original ones all the way to the ninja zord. The only robots i didn't have up until then was titanus and the turtle zord thing.
MIGHTY DUCKS
Probably no one will want these and then get handed down to my kids. but if you want em', i got em.
MEGAMAN
I have some of the Model Mega Man kits. These won't be cheap though as they cost me a crap load to get.
See PAGE 5 for PICS
SPAWN
I have a few spawn things, but not a whole lot. I have the original spawn figure and about 20 other figures or a little more.
See PAGE 5 for PICS
Independence Day (ID-4)
See PAGE 5 for PICS
WANTS
SPIDERMAN
Shocker
Mad Jack
X-MEN
Iced up Iceman with sled
Colossus
Avalance
MARVEL SELECT
Ultimate Hulk
DC Direct
Batman Hush Series 2 Harley Quinn
Batman Hush Series 2 Nightwing
Batman Hush Series 2 Catwoman
MFF CARD LIST
SERIES 1 (BLUE CARDS)
HAVES
1-Lizard x2
3-Antman
5-Storm
6-Prof X
7-Ultron
8-Doc Ock x2
9-Magneto
10-Phoenix x2
11-Cyclops
13-Kraven
14-Mystique
15-Punisher
16-Nick Fury
19-Beast x2
22-Juggernaut
23-Dr. Strange x2
25-Kang x2
27-Rouge
28-Green Goblin
31-Doom
32-Carnage x2
33-Sabertooth
35-Electro
36-Venom
37-Blade
39-Invisilbe Woman x2
40-Apocalypse
46-Gambit x3
47-Spider-man
48-She-Hulk x2
49-Vulture
52-Iceman x2
53-Thanos x2
55-Sandman x2
56-Shocker
57-Loki
59-Diablo
60-Spider-girl
61-Kingpin x2
WANTS
62
SERIES 2 (RED CARDS)
HAVES
1-Toad
9-Stryfe
14-Wolverine
17-Callisto
23-Lady Deathstrike
31-Sunspot
41-Prof X
44-Viper
47-Storm x2
59-Silver Samuri x3
63-Colossus
WANTS
No Wants! I have them all!

I know I have some more games somewhere, i just have to find them.