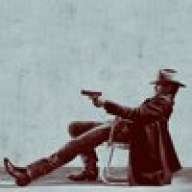 Joined

Jun 12, 2011
Messages

5,804
Reaction score

1
Points

31
Unsurprisingly, I am loving season 5. Warning, this will be slightly spoilerific if you're not up to date:

A lot of people on the Clone Wars Facebook page seem to whine about the most recent story arc, the war on Onderon, but I've enjoyed it. I like Lux, and I thought Ahsoka's crush on him, and more so Anakin's reaction to that, was really interesting. One thing I found very odd was Ahsoka smiling when Steela kissed Lux. Up until that point all we'd ever seen is Ahsoka frowning and looking miserable every time Steela so much as put a hand on Lux's shoulder...unless I missed something, that seemed like a really sudden and unexplained change in Ahsoka's attitude.

Maul and his brother, Savage, have been really fun. It's undoubtedly silly that they bought Maul back and gave him a brother, but the show is so well written it's easy to ignore the absurdity. I like that Maul made himself the top dog almost immediately and I like that he's a little bit nuts after his time living in the hole. The best thing about Maul and Savage is how well they're portraying them as total monsters -even Obi Wan is shaking in his boots and that guy is pretty laid back!