Joined

Jan 29, 2004
Messages

6,188
Reaction score

0
Points

31
Okay, we've seen the badassery of Iron Man. Let's imagine that the perfect actor (whoever that may be) has been cast as Steve Rogers, Captain America.
What in particular do you want to see in the movie? What scenes? Any snappy dialogue? Post Pics and Scans if you like.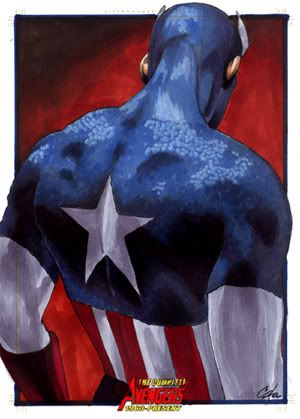 Me? Among other things, I'd like to see an unbelievable shield throw to finish off the enforcer-type second tier villain. Doesn't matter who it is particularly, but Cap throwing the Shield, perhaps with some environmental assistance/momentum and the proceeding to box with the big man, apparently loosing but really setting the man up for the coup de grace. The Shiled comes back around the other side of the building a whole minute later, sinking into the man's/robot's neck, ending his fighting days.
Wall Ricochet's are cool, but require suspension of disbelief... a giant arc on a boomerang is just timing, planning and coolness.