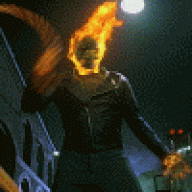 Joined

Sep 27, 2003
Messages

13,712
Reaction score

0
Points

31
So you know, this has little to do with Ghost Rider except it being about this little section of the hype.

In the coming months this cozy corner of SuperHeroHype will change dramatically. The same thing is going to happen to this forum as it has for every other forum on the hype when a movie's release date nears. As more and more people hear about the flick, more and more people will flood this section. I'm sure everyone is aware of that.

I decided to start this thread because of some recent misunderstandings. It made me think about what this place, the best on the hype (hands down), will turn into come may and beyond. It's not going to be pretty and I figure it's best we talk about it now, we core members of the GR hype.

So, what can we expect? Trolls, double posts and a clash in personalities.

How do we handle it? The same as we have for the past few years but, on a much larger scale due to our coming population explostion. Some tips to those who haven't been around as long;

Recognize a Troll
- These are people who hate everything just for the sake of doing so. In turn, the love to piss off those who love things. These people cannot be swayed from their mission and are best ignored. Feed a troll and it'll survive. Ignore it and it will die.

Double Posting Blowups
- Please, if a double post happens, let the person know that it has been chatted about and if possible, where it can be found. This'll be tricky come this summer but please, be paitent with the newcomers. Also, In turn, please do not take offense when somebody points out a double post.

Different Personalities
- It's very difficult to find humor in text. Some people are very sarcastic in their writings as part of their personality. I personally find most of these people to be hilarious when you realize their joking. If not, it seems insulting.

In turn, there are some very moody people who take thier opinions very seriously and will debate them to the end of time. Though it may appear agressive, it's not. It's just passionate and that's something to be admired. Also, there are phrase chatters who say only a few words at a time, or smiley posters who do nothing but post smilies. There are grumpy people, silly people, stalker people, crazy people, wonderful people. There are lots of people with lots of different stories to share and ways of doing so. Understand this. Avoid personality clashes. If you don't like what somebody is saying, share your opinion without insulting and be done with it. Simple as that.

So, why am I posting this? Because I've spent far too much time out of my life posting here. It's become an addiction and that doesn't happen with things that are unenjoyable. The Hype, particularly this section of it, is quite enjoyable to me and I want to see it continue to be that way. If we all share a similar vision of how we want this place to be in 6 months, it'll happen. The core group has already shared a vision creating a wonderous place to chat and I believe as we gain friends we can continue this paradise away from real life.

Please, if anyone else has anything to add...