Joined

Aug 31, 2010
Messages

4,742
Reaction score

0
Points

31
I think one of these is way overdue. You know what I'm talking about -- that last edge of fanboy nitpick that somehow gives way to a logic and insight so absurd you feel a bit silly just for thinking about it: the Arkham inmate in TDK is
really The Mad Hatter?! Mr. Reese is really The Riddler?!
But those are just the tip of the ice-berg. There are some theories that transcend normal logic; those which if taken to a place that's more than just a rancid suggestion, those which if devoted into an ideology, which have the potential to become legendary...
I'm talking about those. Unchecked by reason but still somehow rational in your mind.
There are a few suggestions on the "What did you notice after multiple views" thread, but damn it if the Bat-thread's reputation for being insane has any place than we need to push it up to a sixty. I'll start off with the more bizarre ones, but I want the ideas to be put up here and contested with the same level of Bat-zeal and Bat-devotion. Don't go telling the other guy that "it's really reaching" because that's sort of the point of the thread -- to
be
reaching, but still just believable.
#1
Chris Nolan's
The Dark Knight
has a subtle allusion to Stanley Kubrick's movies:
The Bat-Garage is an upside-down reflection of the chamber from
2001: A Space Odyssey
Nolan just might've slipped us a very clever (and subtle) reference to his favourite film. Note the visual/aesthetic similarity:
In Stanley Kubrick (one of Nolan's self-confessed inspiration)'s film
2001: A Space Odyssey
, the central human figure, Dave, wakes up at the climax of the film in a room that has a strange floor of tiled white lighting. It's bright, iridescent, and illuminates the entire chamber. The room is perhaps one of the most important -- let alone memorable -- scenes in the entire film.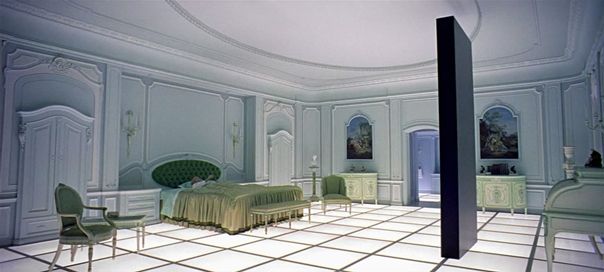 In
The Dark Knight
, the Bat-Cave is replaced by a chamber/garage/warehouse that is aesthetically similar, at least on its edges.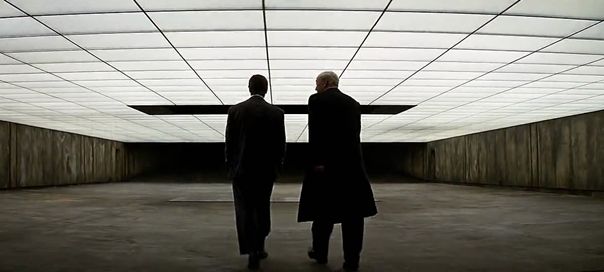 Whereas in
Space Odyssey
the tiled/white lights make up the FLOORING, in Bruce's garage, it occupies the CEILING, but the design is curiously the same.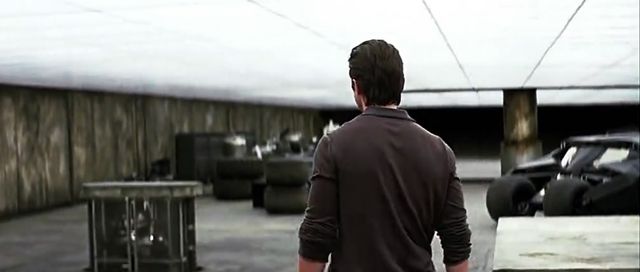 The warehouse is said to replace the Batcave and therefore stores all of Batman's most memorable gear, including his vehicles such as the Bat-pod, the Bat-mobile, the bat-computer, and of course, that sexy (red?) bike.
In
A Space Odyssey
, Dave sees in the chamber, among other things, the vehicle he uses to transport across space:
[
I continued the comparison in this post look it up if you're interested
]