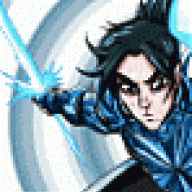 Joined

Nov 21, 2005
Messages

4,517
Reaction score

0
Points

31
-----------------------------------------------
RULES
-----------------------------------------
Please read before voting.
1) I, Genesis 1.0, KyTrigger or someone I appoint will post a match.
2) Make a post clearly stating who you think will win and I will tally these posts and give a score. The higher score in the end is the winner. If your post is not clear your vote will be rejected.
3) The heroes are always fighting at their most recent power levels before they were dead/powerless unless otherwise noted.
4) Teams are always the most recent incarnation before they were disbanded.
5) If I am absent for more then 3 days the thread can be controled by anyone willing to takeover until my return..
6) Any power connection such as the Speedforce, Motherbox, Power Cosmic ect. is still in effect regardless of the location unless otherwise stated.
7)There are no ringouts, competitors must be defeated by one another unless otherwise mentioned.
8) Never vote against Azrael or Moon Knight!
--------------------------------------------------------------------------------------
Based on Sparta's and Darth Wolverine's current thread I decided to do one using characters from both worlds and here is my first match.
Thor vs. Aquaman: This battle is on water with no nearby land and Aquaman does have his enchanted hand.