I haven't chime in with my thoughts on the latest issue of SSG so better late than ever.
I'll keep it brief: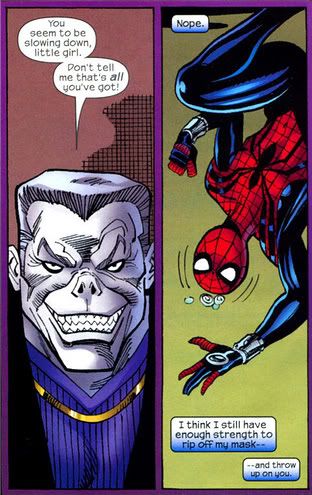 Issue #3 was superb work by Tom D, Ron and Sal with a brutal fight between Mayday and Tombstone. Ouch!
As for Gwen Reilly, excuse me, Connie Frederickson aka Connie Osborn......you know there have been a lot of Goblin babies this decade......
Spider-Girl Related News:
Amazing Spider-Man Family #8 will be on sale Wednesday, two weeks after Issue 7 was released.
Spider-Girl fans will get their fix a little early.
http://www.newsarama.com/php/multimedia/album.php?aid=29051
Other news Ron Frenz honored:
Artist Ron Frenz was honored with a Lifetime Achievement Award by the ToonSeum at its annual fundraiser on June 5, 2009. Based in Pittsburgh, Pennsylvania, the ToonSeum is a museum whose mission is to celebrate the art of cartooning and to promote a deeper appreciation of the cartoonists and their work through hands-on workshops, community outreach, cartoon-oriented educational programming, and exhibitions or original cartoon art.
A veteran comic book illustrator and storyboard artist for animation, Mr. Frenz is best known for his work on Ka-Zar, Amazing Spider-Man, The Mighty Thor, Thuderstrike, Superman, Avengers Next and He-Man And The Masters of the Universe. He is also currently drawing The Spectacular Spider-Girl and The Black Knight for Marvel Comics. The award was presented by Tom DeFalco, a former editor in chief of Marvel Comics and a frequent collaborator of Mr. Frenz. DeFalco hailed Frenz as "a brilliant co-plotter, an unparalleled visual choreographer, a terrific artist and an all-around nice guy."