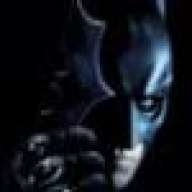 Joined

May 24, 2007
Messages

1,471
Reaction score

0
Points

31
There's a feeling missing from Nolan's movies. They don't quite capture the spirit of BATMAN.
The realism doesn't help, nor does it belong. It's a comic book after all. Even though BATMAN doesn't have Super Powers, he still is a Super Hero, and some of his villians do have certain abilities. They have a comic book/sci-fi edge, such as Bane, Mr. Freeze, and Poison Ivy to name a few.
He's a bit like Indiana Jones, no powers but he sometimes encounters things that are strange and unusual, supervillian, and the like.
I hate these directors that can't handle making a comic book movie. They have no imagination and have to inject realism where it doesn't belong. As if they're embarrassed to just bring the superheroto life without messing with it.
You can have superpower elements, comic book stuff in the movie and it won't be campy. Only if you make it campy will it be that way.
There are so many movies that have been made the right way with comics and all and I'm tired of thinking why couldn't they do this or that for Batman and even other heroes.