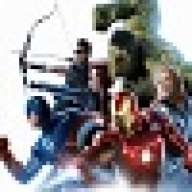 Joined

Dec 5, 2005
Messages

393
Reaction score

0
Points

11
Hey guys!
I just watched the first two episodes i thought instead of just saying god i love it or this sucks, it will be far more beneficial to all of us to list the pros and ons of the series so far so we can help make this show better.
Ok i will start:

Pros:
- The spectacular Spidey animations while jumping swinging etc
- the movie feel of spidey movements.
- Catchy music and especially the theme song.
- Feels a lot like the comic book.
- the mix of ultimate spider-man and 616 spidey in one series.
- The Lee/Ditko feel of the series.
- the character development so far is great.
- peter/spidey voice acting
- Spidey fights
-hammer head redesign.

cons:
- peter's nose and eyes are way too horrible so is all character's eyes pretty much.
- Liz being a hispanic
- Horrible horrible voice acting for harry and liz
- Connors cybernetic arm defeats the whole purpose of sympathizing with his character.
- Eddir brock's face and hair as well as feet are atrocious.
- Aunt may looks like a girl in her late 20's with dyed hair.
- Vulture's big nose (WTF)
- Norman's asian eyes (wtf2)

Mostly my problem is with some design ideas they went with i know they simplified the character's look for the sake of the animation but still they could have made more efort in not making them look like samurai jack.
I liked the series dont get me wrong but if you really want to make this THE best spider-man animated series they really need to make some design changes, a series wont kick ass with only good writing and animation, the design is a huge part of any animated feature.

Now what abt you guys what are the pros and cons of series in your opinion?