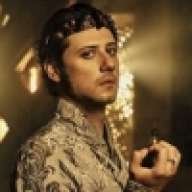 Joined

Apr 4, 2004
Messages

108,791
Reaction score

18,816
Points

203
http://www.deadline.com/2012/12/gui...peak-as-next-feature-with-legendary-pictures/
Guillermo Del Toro To Helm 'Crimson Peak' As Next Feature, With Legendary Pictures
By MIKE FLEMING JR.

EXCLUSIVE: Guillermo del Toro has committed to make the ghost story Crimson Peak the next film he will direct. Even though del Toro set up that project originally from a script he wrote with frequent collaborator Matthew Robbins, he will make the film for Legendary Pictures, which backed his latest film, Pacific Rim. Legendary will produce with the expectation it will release through its deal with Warner Bros. Legendary will be a participating financing partner, with Universal retaining an option to come in as co-financier at a later date.

Del Toro will work through a rewrite with Lucinda Coxon and they will shoot for an early 2014 production start. That gives del Toro the time to complete press for Pacific Rim and to film the FX pilot for The Strain, the series based on the vampire novel series del Toro wrote with Chuck Hogan.

Del Toro tells me that Crimson Peak is best described as "a very set-oriented, classical but at the same time modern take on the ghost story. It will allow me to play with the conventions of the genre I know and love, and at the same time subvert the old rules."

The main thing: Legendary will give him the resources he needs to honor what he calls the "grand dames" of the haunted house genre. "To me that is Robert Wise's The Haunting, which was a big movie, beautifully directed, with the house built magnificently. And the other grand daddy is Jack Clayton's The Innocents. I've always tried to make big-sized horror movies like the ones I grew up watching," del Toro said. "Films like The Omen, The Exorcist and The Shining, the latter of which is another Mount Everest of the haunted house movie. I loved the way that Kubrick had such control over the big sets he used, and how much big production value there was. I think people are getting used to horror subjects done as found footage or B-value budgets. I wanted this to feel like a throwback."

The project originally sold quietly as a spec script to Universal, where del Toro had his deal. "It was the first one I wrote after Pan's Labyrinth, and I sold it to Donna Langley at Universal," he said. "She loved it, I was going to direct it, and then Hellboy II happened, and then I was off to New Zealand for The Hobbit. Donna suggested I move aside and produce it. It went out to directors, but I didn't quite like anyone for it. Finally I went through the experience of Pacific Rim with Warner Bros and Legendary, and it was the best experience I have ever had making a movie, period. I had a really good working relationship with Thomas Tull and Jon Jashni, and they asked what I wanted to do next. I sent them At The Mountains Of Madness, I sent them [The Count Of] Monte Cristo, another project I've tried to do for 20 years. I also sent Crimson Peak, but didn't expect a reaction because it's not a typical Legendary movie. Much to my surprise, Thomas Tull called 9:30 at night on the day I sent it and said, 'I don't know how it ends, but I am on page 45 and I love it.' Next day, Jon Jashni called and said we think it's the best project for us, just the right size." Universal allowed him to move the project, with the caveat the studio can put up money for a stake in the film.

Don't think for a moment that del Toro has given up his dreams for At The Mountains Of Madness, based on the HP Lovecraft horror classic that Universal unplugged late in the process even though del Toro had Tom Cruise poised to star and James Cameron poised to supervise 3D as producer. Del Toro hopes that Legendary will be part of that effort.

"They love it, but we just finished Pacific Rim," he said. "They want to let that film happen [it opens July 12] and then my hope is, down the line we can do it. People ask how do i choose projects. All the projects in my roster are there because I love them, but the financing process is serendipity. And often, the ones I think will happen don't, and the ones I think won't happen, do."

Screenwriter Coxon most recently adapted Michel Faber's novel The Crimson Petal And The White for BBC. She's repped by CAA and UK-based The Agency. Del Toro is managed by Gary Ungar and repped by WME.
Lets see if this one actually makes it into production...