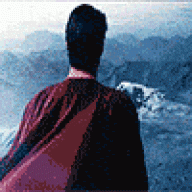 Joined

Mar 7, 2005
Messages

7,118
Reaction score

184
Points

73
We all want a sequel, but why not a continuation? A sequel is basically a second story taking place after much time since the story in the first movie. But a continuation picks up where the previous film left off.

The Back to the Future trilogy, The Godfather (1-2 mostly I believe), and the first two Superman movies are all examples of this.

So if BB2 is a continuation, the second story would cut from the lasy shot of Batman gliding at the end of BB. From that: Wayne Manor would be in the rebuilding process so Wayne would live in a penthouse, a reference to the O'Neil/Adams era. And since Batman would have already gotten the Joker card, the detective skills would kick in and be use for the film on the Joker.

Thoughts?